MUA Insurance was the first South African motor insurer to offer specialist underwriting services and at the time of its inception was one of only three such managing agencies. With its core business aimed at serving exacting executive clients, the company`s specialist experience of more than twenty years stands it in good stead in its demanding market. Initially created to serve the motor vehicle insurance market, the company was granted the inclusion of property and liability classes in its operating licence a few years ago and mid-2006 saw the release of new products in those areas.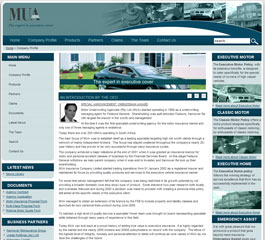 MUA Website
MUA's website provides detailed information on their products, partners and team, as well as branch information
MUA Insurance offers personal short-term insurance cover to discriminating individuals who want to protect their valuable assets against calamities. Through highly knowledgeable independent brokers, the company offers personal and quality services to its target consumers.
Company employees themselves have a special understanding of their clients` needs as many of them are confessed `petrol-heads` and owners of the same executive and classic cars as their clients.
That same passion for excellence, value and enduring quality is carried through to the company`s approach to its home protection policies. Many high net worth individuals have specific financial protection and insurance needs that may fall outside those of mid-range consumers. The company has an exacting attention to detail when designing home cover for its executive clients and the high levels of customer satisfaction attest to the company`s success in this area.
PRODUCTS
Classic Motor
A specialist policy of comprehensive cover for owners of classic, vintage and collectable cars, including benefits tailored to the special needs of classic motor owners.

Executive Motor
A specialist policy of comprehensive cover for owners of classic, executive and exotic cars.

Executive Home
Comprehensive and tailored cover for high-income individuals, including attention to detail in the underwriting strategies.

Emergency Assist
Extensive cover for a large variety of personal emergencies, including roadside assistance, home utilities call-outs and auto concierge services.
BEE AND CSI INFORMATION
The company adheres to BEE mandates and considers the Financial Sector Charter and Broad Based Black Economic Empowerment to be opportunities for improving economic inclusion.
CONTACT DETAILS
Physical Address:
MUA House
4 Silverwood Close
Steenberg Office Park
Westlake
Postal Address:
PO Box 31327
Tokai
7945
Tel: +27 (0) 21 700 4200
Fax: +27 (0) 21 700 4224
URL: www.mua.co.za