Old Mutual is as close to blue-chip royalty as one can get in South Africa. It`s one of those venerable institutions that seems to have been around forever, and it offers a large basket of all kinds of financial planning, investment and insurance products and services. It is without doubt one of the largest financial services companies in the country, which gives you the confidence bred by longevity and financial security when you take insurance with it.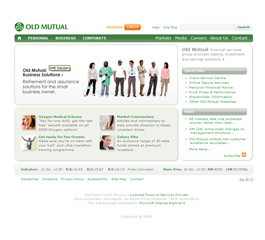 Old Mutual Website
On the Old Mutual website you can find out more about their products and services as well as get in touch with a personal financial adviser
Old Mutual has a portfolio of personal insurance and risk cover products that includes short-term insurance, education planning, retirement planning, medical cover, investment and savings, estate planning, life cover, and various types of risk cover, like dread disease, retrenchment and disability cover. We`ll concentrate on the insurance side of these for the purposes of this review.
The Allsure insurance package is the cornerstone of the company`s short-term insurance. It`s truly a comprehensive personal insurance offering, containing all the different types of cover that you need - and you also have the option of paying a monthly or a yearly premium. The advantage of the latter is that it allows you to take advantage of discounted premiums. Extended cover and optional cover add-ons are available in addition to the core package. There are also business and corporate insurance products available.
The core package of Allsure is cover for the following: buildings and household contents, personal accident and all-risk cover, motor vehicle cover (including motorcycles, caravans, trailers and pleasure vehicles), personal computer cover, legal costs cover and bereavement. You have the option of taking General All Risk cover or Specified All Risk Cover (where you can specify certain valuable items for insurance and replacement purposes).
Life cover is offered in the form of cover against financial loss that is caused by disablity or death - so it`s a combination lifestyle protection product. There are two main packages on offer - the Life Plan Range, that includes the options of taking life only cover, life and disability cover, or accidental death and disability cover. Then there`s a new product being advertised: Greenlight Life Cover. This is a standard disability and life financial protection plan.
On the business insurance side there are packages that allow you to take risk cover against the loss or incapacity of important people in a business, as well as general business insurance and insurance for specific professionals (such as medical and retail).
For corporate insurance purposes the company will administer retirement funds and group life insurance.
You can`t go wrong when you choose this stalwart of the insurance industry. It`s solid, dependable and reliable.
PRODUCTS
Personal insurance
The Allsure insurance package contains the following:

Household goods insurance - protection against loss from things like lightning, fire and theft. Includes personal liability cover for injury, death and property damage.
Buildings insurance - this covers your physical buildings for things like fire, storms & floods, earthquakes, water apparatus accidents and theft.
Personal accident insurance - covers against injury, death or disability across the world.
All risk insurance - worldwide cover that can be taken in a general form or on specified items.
Motor vehicles, motor cycles, trailers, caravans and watercraft - covered for damage, theft, fire and third party.
Personal computer insurance - against loss, damage, restoration of software and data.
Legal costs insurance - covers legal costs in the event of civil and criminal actions.
Extended personal liability insurance - an extension of the standard liability up to a value of R20 million.
Bereavement expenses insurance - benefits are paid in the event of death, and spouses and children can be included.



Life cover
Choose between pure life cover, life & disability cover or accidental death & disability cover. There is also the more traditional Greenlight Life cover, including life and disability cover.


Business insurance
There is general business insurance, plus insurance against the loss or incapacitation of key members of an organisation, as well as professional practice and retail insurance.


Corporate insurance
Old Mutual will provide and administer retirement fund cover, company medical schemes and group life cover.
BEE AND CSI INFORMATION
Old Mutual is actively involved in promoting BEE practices and is fully compliant with the law. It is centrally involved in the areas of widescale corporate economic transformation, workplace initiatives and retirment reform. It operates a number of community and social initiatives, including the Old Mutual Foundation, that is concerned with enterprise development, skills capacity building, education and staff voluteerism.
CONTACT DETAILS
Client communication centre: 0860 50 60 70
Fax: +27 21 509 4175
Email: via website contact form
Johannesburg Head Office
Physical Address:
93 Grayston Drive,
Cnr of West Road South
Sandton
Postal Address:
PO Box 784531,
Sandton
2146
Cape Town Head Office
Physical Address:
Mutualpark,
Jan Smuts Drive
Pinelands,
Cape Town
Postal Address:
PO Box 66,
Cape Town
8000
URL: www.oldmutual.co.za