A pioneering company in the field of workers` compensation and insurance in South Africa, Rand Mutual Assurance was established in 1894 in the mining industry. The company has grown over the years alongside changes in the industry and in response to the evolution of workers compensation and the consequent development of underwriting and insurance that applies to this.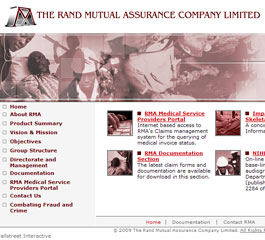 Rand Mutual Assurance Website
On the Rand Mutual Assurance website you can learn more about the company and the products it offers
Consequently today Rand Mutual Assurance offers far more than just workers compensation schemes.
Statutory workers` insurance is the backbone of Rand Mutual Assurance product offering, covering employees and dependents monetarily should something befall them in the workplace, like accidental injury or death. Occupational health insurance is also offered to cover occupational diseases. RMA has an Augmentation Policy open to those who work for companies that belong to Rand Mutual`s insurance schemes - this provides top-up cover.
Then there is the Commuting Journeys insurance policy - a new product set recently added. This provides insurance for employees against the eventuality of accidental injury or death incurred while commuting, or during company events such as training courses.
When it comes to South African working conditions with labour instabilities, there is also a Riot and Mines Auxiliary Forces policy. This is a policy that covers eventualities like accidental injury or death due to workplace disturbance. This only applies to employees injured by other employees.
PRODUCTS
Workers` Compensation/Employees` Policy
Statutory workers` insurance which covers accidental injury or death at work and certain occupational diseases

Augmentation Policy
Augments certain benefits payable to the insured`s employees

Commuting Journeys Policy
Accidental injury or death while commuting to and from work, or work related events

Riot and Mines Auxiliary Forces Policy
Accidental injury or death as a victim in a riot, strike, or faction
BEE AND CSI INFORMATION

As a company centrally involved in the labour industry Rand Mutual Assurance has full BEE compliant credentials. It also has a strong community service ethos. It has initiated and contributes to programmes aimed at community upliftment for mineworkers` families.
CONTACT DETAILS
Physical address:
Edura, 16th Floor
41 Fox Street
Johannesburg
Postal address:
PO Box 61413
Marshalltown
2107
Tel: 011 497 660
Fax: 011 834 2110

Email: enquiries@randmutual.co.za
URL: www.randmutual.co.za