RMB Structured Insurance is a subsidiary of RMB Holdings, the well-known and respected financial services group. The group offers a diverse and in-depth selection of financial services and strategies across the full spectrum of South African society. Other group members include Discovery, the First Rand Group (including FNB and Wesbank), Momentum and OUTsurance.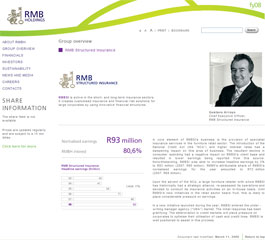 RMB Structured Insurance Website
On the RMB website you can view the company's products, contact and investor-related information
The group customer base is diverse and comes from most economic sectors of the economy, but various group stakeholders also offer specialised financial services that pay attention to the particular capital and credit risk demands of a specific industry. RMB Structured Insurance services larger corporate clients by developing innovative risk and insurance solutions that meet their multi-layered financial protection needs.
One of the areas in which RMBSI operates is in the furniture retail industry where the company is a specialist supplier of insurance services. Last year, the company established its UMA - Underwriting Managing Agency - to help its corporate clients strategically manage their credit liabilities in today`s volatile markets.
RMBSI holds to the same business principles as its holding company and is committed to developing financial services that meet the needs of their clients in a developing country. As part of that commitment and in line with the goals of the Financial Sector Charter, the company is committed to improving financial literacy and access to financial services to disadvantaged communities.
The same commitment to the development and growth of its own people is clear in the group`s HR strategy. The company seeks to employ people who reflect values of innovation, individual empowerment and integrity. The owner-manager culture is carried through the organisational structures and a culture of personal accountability and empowerment is encouraged and recognised.
RMBSI achieves the top accolade of high customer satisfaction through on-going interaction with its clients to make sure that it responds to their evolving financial needs.
PRODUCTS
Business Insurance
Corporate short and long-term insurance and financial risk solutions.
BEE AND CSI INFORMATION
All group member companies are committed to the philosophy and practice of BEE, both internally and in its selection of service providers.
The CSI strategy of the group is managed by the FirstRand Foundation with each FirstRand entity contributing a percentage of after tax profits towards the financial support of a variety of social development programmes. The group also encourages and motivates its own workforce to take part in employee volunteer programmes.
CONTACT DETAILS
Physical Address:
4th Floor
2 Merchant Place
Corner Fredman Drive & Rivonia Road
Sandton
Postal Address:
PO Box 652659
Benmore
2010
Tel: +27 (0) 11 685 7600
Fax: +27 (0) 11 784 9858
URL: www.rmbh.co.za