Financial freedom is a key principle in planning one`s life these days, and Finance in Motion bases its entire business around this attitude. The company aims to provide you with insurance options and other financial services that puts you in the position of ultimate financial freedom. It may feel like a myth, but this company doesn`t just offer advice, it helps find the right product for you to help you realistically achieve financial freedom.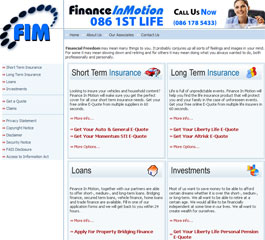 Finance In Motion Website
On the FIM website you can access their entire product range, getting free online quotes from multiple insurers
Insurance, in the Finance in Motion belief, is key on the road to financial success. It is more than just covering you for disaster and loss, it`s creating protection for everything that we build up along the way. Finance in Motion views risk cover as central to this, and sees it in 3 separate categories. There`s financial risk to an individual and his or her family, there`s protection of assets against damage or loss, and there`s coverage for the assets of a business and agreements against time-sensitive risk variables.
This insurance company has as its offerings both long- and short- term insurance products and offers packages that cover loss of income through disability or impairment, life protection, lifestyle protection in case of tragic life circumstance or dread disease, as well as policy protection, so that all other risk covers can be maintained if you should be in the unfortunate position of not being able to have the ability of paying your premiums.
PRODUCTS
Car & Household Insurance
Through Auto & General, Momentum Short Term Insurance, or FIM directly - the company will consult with you on the best options for you

Bike & Leisure Vehicle Insurance
Offering you insurance for your quad bike, your off-road bike or your road bike.

Life Assurance
Life and disability cover through Liberty Life, Altrisk, or Momentum Myriad Life Cover

Loans
Loans ranging from bond repayments, credit card, property bridging finance, and vehicle finance, all with a view to planning your financial fitness.

Retirement Annuities
A wide range of RA options can be organised.
BEE AND CSI INFORMATION

As all South Africa companies are obliged to, FIM complies with the BEE requirements for a company of its size.
CONTACT DETAILS
Tel: 086 178 5433
Fax: 086 555 0035
Email: info@fim.co.za
Website: www.fim.co.za