Lloyds of London is one of the world`s best known financial brands and perhaps the world`s leading insurance company, and Lloyds South Africa is the local division of this more than 300 year old company. The original company is known for taking on virtually anything that can be insured, often insuring items that other companies will not.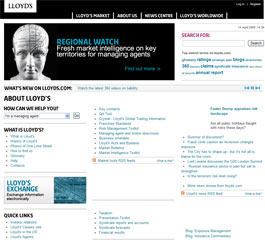 Lloyd's Website
The Lloyd's website provides a wealth of information, related to their insurance products and other offerings
It is therefore a specialist risk insurance provider, having begun in the docks of London in 1688. The company operates in more than 200 countries worldwide, and Lloyds South Africa is a full subsidiary, with a full-scale operation in the South African region.
The company has a variety of undertakings in this country, with a focus on remedial and regulatory roles. It is also tasked by its head office to nurture relationships with other underwriters and insurance stakeholders in the region.
The South African branch is a complete service provider on behalf of Lloyds of London. It performs a variety of roles, including client application reviews, assessing market developments and sorting out customer services issues and run-off arrangements. It also undertakes an administrative role that embraces functions like claims processing, and premium and tax collection. It is a fully compliant branch that co-operates fully with SASRIA - another formal responsibility. The office in South Africa therefore becomes a channel through which the Lloyds Corporation makes its services offerings in the South African market.
Lloyds has always had a reputation for insuring the uninsurable - those once-off, unusual, complex, and largest risk items that others generally don`t. This has typically ranged from things like the Football World Cup to Claudia Schiffer`s legs, to Eric Clapton`s hands. Its underlying expertise is clearly focused on accurately defining risk and giving customers insurance that is a individually tailored as one could possibly be.
PRODUCTS
Lloyd`s products are not directly categorisable, as it covers such a broad and at the same time idiosyncratic field. It`s products are probably best defined as anything for anyone, really. It`s about as customised as the insurance market gets.
BEE AND CSI INFORMATION

Lloyds ensures that it is always compliant with the legal requirements of all territories in which it operates. South Africa, being no exception, all BEE compliance is observed.
CONTACT DETAILS
Physical address:
Lloyds South Africa,
7th Floor,
The Forum,
2 Maude Street,
Sandton, 2146
Tel: 011 884 0486
Fax: 011 884 0384
Email: amit.khilosia@lloyds.com
URL: www.lloyds.com