Sanlam is one of South Africa`s top financial services groups in the insurance sector and has its headquarters in Cape Town. Started in 1918, the company has grown exponentially in its 90 years of business to become a household name and offers diverse and multi-functional financial services.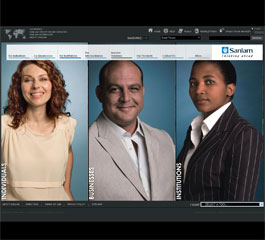 Sanlam Website
On the Sanlam website you can view their product offering to individuals, businesses and institutions
Sanlam has a wide range of financial products to serve the different needs of its customers and the products are focused along 2 distinct lines - individuals and businesses. In the insurance products, Sanlam Personal Finance serves individual customers while Sanlam Employee Benefits takes care of the insurance needs of corporations. Business owners or managers can select short-term insurance solutions for vehicle and property cover, long-term financial policies for employee retirement planning, group life and disability and risk cover.
For individuals, the company offers short, medium and long-term insurance options. Customers can select cover for their vehicles and homes, personal liability, life and disability protection, risk cover, educational planning, retirement policies as well as services geared to help clients manage their investments. Santam is the short-term insurance entity within the group that manages short-term insurance policies and is South Africa`s top short-term insurer. Brokers offer customers personal service and handle 95% of product sales. The company recently received a grading of AA+ on the National Insurer Financial Strength rating criteria.
The company has a 3-tiered approach - to create wealth through savings and credit planning; to protect wealth through planned investments and covering risk factors such as health, liability, life and property cover; and to grow its customers` wealth through effective investment management.
With its heritage firmly rooted in South African soil, the company is committed to meaningful transformation and the economic inclusion of all citizens and has pioneered transformation strategies through its 2004 Ubuntu-Botho transaction.
PRODUCTS
Individual Insurance
Motor vehicle
Comprehensive short-term cover for your car

Household
Comprehensive short-term cover for household buildings and contents

Personal Risk Cover
Financial protection against calamities

LifePower
Comprehensive personal cover for people living with HIV

Medical Aid
Comprehensive medical cover provided by Bestmed

Retirement
Comprehensive options for retirement planning
Business Insurance
Motor vehicle
Comprehensive short-term cover for business vehicles

Property
Comprehensive short-term cover for business properties

Employee benefits
Group benefits for companies, including life and disability, risk management, fund administration and retirement fund planning

Financial Structuring and Engineering
Equity, debt and risk management
BEE AND CSI INFORMATION
Sanlam fully adheres to BEE mandates.
The company is actively involved in social development programmes through its CSI strategies and considers CSI to be an investment in nation building, not just philanthropy. The focus of its CSI strategies is in the social development areas most in need of support, mainly education and HIV/Aids.
CONTACT DETAILS
Physical Address:
Sanlam Head Office
2 Strand Road
Bellville
South Africa
Postal Address:
Sanlam Head Office
PO Box 1
Sanlamhof
7532
Client Contact Centre
0860 726 526
Tel: (021) 947-9111

Email: life@sanlam.co.za
URL: www.sanlam.co.za