Absa, primarily a bank of course, and one of the largest in South Africa at that, has recently started offering some specific insurance products. The company focuses on a broad range of insurance, covering most of the touch points for South African consumers. Now owned by Barclays, this bank offers its insurance services and products through a specialist division of its own - Absa Brokers. This allows it to deal directly with the public, while providing an effective channel between its clients and the insurance providers that it uses to source its insurance offerings. As a foremost financial institution, its offerings are not limited to insurance alone - it also offers risk management, estate and retirement planning, and investment planning.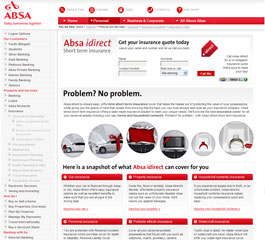 Absa Insurance Website
On the Absa website you can get a free online quote and also find more information about their products.
Absa Brokers, as a sort of intermediary division straddles the line between direct insurance and a middle man role. It`s a brokerage attached to an actual financial institution - so it`s not quite solely a brokerage, and not a direct insurance provider either. Its particular strength is that is able to add a lot of extra value for clients, able to give solid advice, and directly linked to the market power of a company of this size.
The insurance broker division is divided into 3 groups - long-term insurance, short-term insurance and a general group that handles personal financial planning. Its long-term insurance group concentrates on life assurance, endowment assurance, investments, annuities, unit trusts and business insurance. The short-term group is involved with personal insurance, commercial insurance and industrial insurance.
The personal insurance cluster is comprehensive, including house insurance and car insurance. You can also get emergency and legal cover as well as travel insurance and insurance for women. The latter is called Absalutely Women, which combines all kinds of personal insurance options in a package tailored to women. In this package it has the iDirect insurance service, which gives you quick access to personal insurance products.
PRODUCTS
Personal insurance
Household insurance, vehicle insurance, insurance for women, accidental death cover, property insurance, watercraft insurance, portable effects insurance


Absalutely Woman
Tailored for women - household, motor and all-risks. Also legal assistance, medical, motoring, document, breakdown assistance, emergency assistance, hospital and medical event cover, and Woman Plus, to cover the needs of maternity and motherhood


Travel insurance
Automatic basic cover, top-up cover, seniors cover


Life assurance
Tailored plans


Retirement planning
Tailored plans


Investment planning
Short-term and long-term investment planning


Business insurance
Cover tailored for your business needs


Industrial insurance
Tailored solutions for those in industry.
BEE AND CSI INFORMATION
Absa is one of the most active companies in terms of community involvement and investment. It sponsors many events and initiatives and is particularly active in the areas of the environment as well. One initiative that is highlighted by the company is the Absa Foundation - 2% of the bank`s annual dividend goes into not-for-profit and community organisations.
It has full BEE credentials for its size and category, with ongoing empowerment programmes in place.
CONTACT DETAILS
Switchboard Head Office: +27 11 350 4000
Contact Centre: +27 11 276 4000
Action Line: 0800 414 141
Head Office Physical Address:
Absa Towers East
3rd Floor
170 Main Street
Johannesburg
URL: www.absa.co.za