In the short-term insurance industry, Compass Insurance has a completely unique and different slant on business. That is because Compass deals exclusively with underwriting agencies that provide specialised insurance products for niche business and personal markets. These agencies also provide insurance policy administration services for brokers. Compass, therefore, does not actively market its own brands, but rather works behind the scenes with partners. Consumer business is left to their partners, since they don`t market their own bundle of products.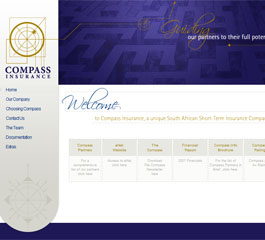 Compass Insurance Website
On the Compass Insurance website you can view their products and download their financial reports
The question is, then, why exist? Is this merely another layer in the complex insurance process that merely adds another expense for the end consumer? One must ask, what does Compass Insurance actually offer for customers in terms of value?
When looking at the process, it is clear that Compass focuses on making the process far more cost effective for its business partners - more streamlined, and more efficient. Its validation works as follows: its underwriting partners enjoy a very low expense ratio and are thus able to pass these savings onto brokers, plus the benefit of advice and experience, and better service. The strong backbone of using Compass allows the broker to acquire and administer insurance in a smoother way, which ultimately benefits the insurance client that works with the brokers who work with Compass underwriting partners. Thus the system all works better in the end.
Having a company like Compass behind a business partner means having crucial services specific to the insurance industry, such as analytical assessment and IT platforms that rigorously interrogate trends and statistics. This data is then applied to the business processes of each partner, along with consultant support for the underwriting partners. Compass understands in the contemporary business world, being financially sound is intrinsically linked to the quality of systems and analysis. Numbers are fine and well, but how you understand them makes all the difference in a business today.
PRODUCTS
Through their partners, they offer a portfolio of products such as general personal lines, commercial protection, and various specialist policies, performance bond markets, fixed property insurance, engineering and construction related products, marine insurance products, products for the jewellery industry, farmers asset products, environmental products to industry, specific products for the Muslim community, and many more specialist products.
BEE AND CSI INFORMATION
Compass is BEE compliant and invests in a sound CSI policy.
CONTACT DETAILS
Physical Address: 54 Peter Place, Peter Place Office Park, Building E, Bryanston

Switchboard: 011 745 8333
Fax: 011 745 8444

Email: info@compass.co.za

Website: www.compass.co.za