Jointly owned by some of South Africa`s superlative insurers - Mutual & Federal Insurance Company Limited, Santam Limited and Munich Reinsurance Company of Africa Limited, in association with the Industrial Development Corporation of South Africa Limited - Credit Guarantee Insurance Corporation Ltd is a specialist insurance underwriter focusing exclusively on credit insurance. The company began in 1965 and has been going from strength to strength since then.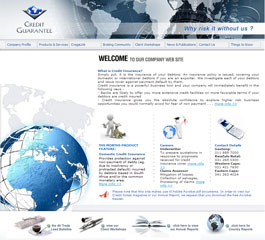 Credit Guarantee Website
On the Credit Guarantee website you can read up on their products and download related forms.
The basis of Credit Guarantee Insurance Corporation is providing credit insurance to companies who choose to insure themselves against the risk of financial losses that would lead to the compromising of their bottom line. Such risks covered by Credit Guarantee Insurance Corporation include delayed payment and payment defaulting by debtors, or the event of debtors going bankrupt. Also covered are cancellation of contracts, export risks and political risks of doing business in various areas.
Credit Guarantee Insurance Corporation has its own unique strength in business, particular with this kind of risk cover. The company keeps broad and deep data records for analysis and interpretation and generates accurate and up-to-the-minute market intelligence which enables it to make accurate decisions based on solid information.
Credit Guarantee Insurance Corporation`s bundle of products are sub-divided into 3 main categories. First off is the short-term domestic credit insurance option, planned to protect a company against non-payment for goods and services provided. Then there is the short-term export credit insurance choice, covering exporters against payment default losses incurred while exporting goods or as a result of certain political developments. And then there is the special export credit risk insurance that covers other export risks.
The company also offers other services such as investigations of credit risks, surveillance of debtors, and a debt recovery service. Auxiliary services provided by the company include research reports on various countries looking at their credit risks and economic reviews. The company also provides policy holder training courses and other services to the brokering community.
PRODUCTS
Domestic Credit Insurance
Including the Domestic pre-delivery, Domestic post-delivery and Domestic Business Builder plans, Domestic Credit Insurance protects against non-payment of debts due to insolvency or protracted default.

Short-Term Export Credit Insurance
Including Export Business Builder, Export Pre-shipment and Export Post-Shipment, this plan covers exporters against loss of proceeds from a transaction, from, for example, specific political issues or payment defaults.
BEE AND CSI INFORMATION

The company has a BEE `A` rating of 79.5%.
Its corporate responsibility programme covers education, training, job creation, arts & culture, health, sports, and more, with the majority of the CSI budget allocated to bursaries offered to internal and external candidates studying credit management or export management. This is with a view to getting more talent into the industry.
CONTACT DETAILS
Postal Address: P.O.Box 125, Randburg, 2125

Tel: 011 889 7000
Fax: 011 886 1027

Email: info@cgic.co.za

Website: www.creditguarantee.co.za