The international company HDI Gerling Industrie Versicherung AG is represented in South Africa by the short-term insurance subsidiary HDI-Gerling. The company is one of the international stalwards of industrial insurance, servicing large and medium sized companies. In South African specifically it supplies short-term insurance of all kinds, as well a specialising in risk management. It also has a specific focus on certain insurance sectors, namely property, marine and business interruption.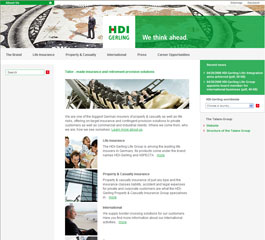 HDI Gerling Website
HDI Gerling website provides a breakdown of their products and contact details of all their branches around the world
HDI-Gerling takes standard insurance options a step further, which is always the hallmark of a successful company. It has looked at the ways that new business risks have emerged and responded by providing new solutions to meet these needs.
One of the company`s primary industries of focus is the transport industry, and it provides insurance to this sector through its global network. Damage to or loss of goods is always a risk in this industry, and it provides liability insurance against this, with a very broad global coverage provided by its branches and subsidiaries. It has embraced modern Internet technology to conveniently provide information to clients, such as insurance summaries and reports. Its marine transport division provides all kinds of documentation, like certificates online.
In South African one of the main raisons d`etre for the company is to provide a point of communication and interaction for its international clients that operate in this area. This is, in fact, a perfect example of the way in which the company can provide a global client service.
It is also involved in what we could call the superstructure of the South African insurance industry. It is actively involved in industry initiative. As a full member of the Financial Services Charter, it has ensured that it adheres to the requirements fully, as well as being fully BEE compliant.
PRODUCTS
Private clients
Property and casualty insurance, life insurance, all risk insurance


Corporate clients
Liability insurance, accident and motor insurance, life insurance, all risk insurance, customised insurance packages
BEE AND CSI INFORMATION
HDI-Gerling is fully BEE compliant.
CONTACT DETAILS
Physical address:
HDI-Gerling Insurance of South Africa Limited,
20 Baker Street
Rosebank, 2196
Tel: +27 11 340 0100
Fax: +27 11 447 4981

Email: ken.croly@hdi-gerling.co.za
Website: www.hdi-gerling.com