Imperial is part of the massive Imperial Holdings company that has interests in a number of different industries, most notably the motor industry and the financial services industry. It has successfully leveraged its steady and strong market share in the fleet management market to gain an almost equally strong foothold in the insurance market - primarily in motor insurance of course. This also means that it can combine its various products and services to create insurance packages that offer very good value for money, and that are well tailored to individual needs.
Imperial not only operates across South Africa in its entirety, but its operations have also expanded to cover a large swathe of Southern Africa, as well as further afield, all the way to Europe and the United Kingdom. It does this via a number of affiliates and subsidiaries, that include Regent Insurance in South Africa. This is the main thrust of its insurance operation in this country.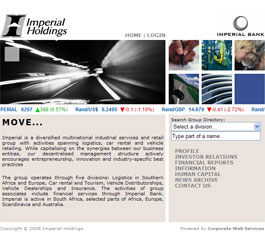 Imperial Insurance Website
The website provides information on Imperial Holdings' diverse range of businesses as well as a link to their insurance site.
As mentioned above, the company concentrates on providing various types of motor insurance, including vehicle breakdown insurance. The core focus is on motor insurance, through its subsidiary, Regent. It is an extremely solid financial services company, with an annual turnover of more than R1 billion - so you can be very confident of its solvency and underwriting strength when you take out a car insurance policy. Rather than just providing an all-encompassing, one-size-fits-all type of insurance product, the company offers different insurance services, products and packages that you can choose to fit your requirements. There are also plenty of value-added services associated with these policies, like breakdown and medical assistance.
The other central areas of operation, besides personal vehicle insurance, are commercial and fleet insurance, and car financing shortfall insurance. Due to its size, Imperial can service very large corporate motor fleets with relative ease, and it`s a market leader in this. Vehicle financing shortfall insurance is quite a new and highly popular area of insurance. It allows you to take out a policy that will cover any shortfall on the cost of paying off your car should it be written off, for example.
With such a large presence, such a good reputation and such financial muscle, this is definitely an insurance provider that you need to contact if you`re in the market for car insurance - as an individual car owner or a fleet manager.
PRODUCTS
Personal vehicle insurance
A varied line of motor vehicle insurance that covers cars, watercraft, caravans and trailers and other forms of personal transport - including lots of value-added offerings.
Commercial vehicle insurance
Insurance packages that can be tailored to suit corporate vehicle and fleet insurance needs - including plenty of value added benefits.
Vehicle finance shortfall insurance
These are insurance policies that are designed to cover any shortfall between what you still owe on your car and the amount that your normal insurance policy pays out.
BEE AND CSI INFORMATION
As one of the biggest corporations in its sector, Imperial is fully BEE compliant and certified as such. It is also very focussed on the development of human capital in South Africa. It runs the Imperial Academy as well as its Learning Network that provide outcomes based training. There is also the Village, which is a community learning initiative.
CONTACT DETAILS
Head Office Telephone: +27 11 372 6500
Head Office Fax: +27 11 372 6560
Email: mherschel@ih.co.za
Postal Address:
P O Box 3013
Edenvale
1610
Head Office Address:
Imperial Place
79 Boeing Road East
Bedfordview
2008
URL: www.imperial.co.za