Nedcor is a division of one of South Africa`s financial bedrock institutions, namely, Nedbank. This also of course means that it is owned by Old Mutual. It offers short-term insurance aimed at the individual and in this day and age it goes a long way towards providing financial confidence to know that the company is part of one of the largest banks in the country, when choosing it for its insurance products.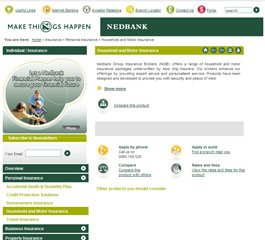 Nedcor Website
The Nedcor website allows you to compare products, view rates and fees and get in touch with them
Under the banner of five product categories, Nedcor has insurance offerings that pretty much fall into every sector of the insurance industry. These are: home insurance, travel insurance, vehicle and asset insurance, life and disability insurance and credit protection and allied insurance. Using a network of brokers, one may access any or all of these baskets of solutions.
The company`s home insurance packages take the shape of standard all-risks cover, with additional insurance that can be taken as optional add-ons. These include optional subsidence cover and replacement value cover, as well protection against loss of rent or the cost of sourcing and using alternative accommodation. This package also covers the cost of professionals - architects and repairmen and the like - who are called in to repair any buildings damaged in accidents.
The comprehensive motor insurance package provides complete vehicle and asset insurance, and includes a 24-hour claims policy, which means that assistance is available to you whenever you need it. Any security measures you install yourself get you discounts on your policy, plus there`s free radio cover up to the value of R2 000. Riot and strike damage is covered in an additional package of SASRIA insurance cover.
Should you purchase travel tickets using your Nedbank credit card, you get free travel insurance, which can be topped up if you need to.
Another comprehensive insurance plan on offer is the NedExcel plan. Your house and outbuildings, household contents, motor vehicles (including boats, caravans and trailers), and personal effects are all covered, as is car hire. Further insurance is available for accidental death and disability. On top of that there is a funeral cover package on offer.
PRODUCTS
Nedcor home insurance
Includes replacement value cover, optional subsidence cover, protection against loss of rent or the cost of alternative accommodation

Nedcor motor insurance
Complete vehicle and asset insurance

Nedcor travel insurance
Available for free if you purchase tickets with your Nedbank credit card

The NedExcel Plan
Covers house and outbuildings, household contents, personal effects, motor vehicle, boat, caravan and trailer
BEE AND CSI INFORMATION
Nedcor is BEE compliant, with a significant portion of shareholding in the hands of black investors. It is also very much involved in a broad range of community initiatives, as well as providing plenty of sponsorships, especially in the sporting arena. These are all particularly well-known to the general public.
CONTACT DETAILS
Physical address:
135 Rivonia Road
Sandown,
2196
South Africa
Contact Centre: 0860 555 111
Tel: +27 (0) 11 294 4444