Pinnafrica Insurance is a subsidiary of Cardif Pinnacle, the leading European specialist in Credit Life insurance strategies. Cardif Pinnacle is a wholly owned subsidiary of Pinnacle Insurance plc, Europe`s largest provider of creditor insurance. The South African company - and its clients - benefit from the combination of international experience coupled with in-depth local knowledge of markets and their customers.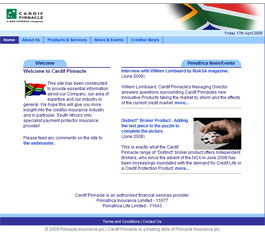 Pinnafrica Insurance Website
On the Pinnafrica website you can view their products and contact information as well as creditor news
Pinnafrica Insurance focuses on its core business - providing individuals and companies with creditor insurance. This type of financial protection is also called `payment protection insurance` (PPI) and `loan protection insurance` and can be used by suppliers and consumers against disruptive events that could change someone`s ability to pay off a debt. You can select a policy that you will help protect you financially if you stop working as a result of disability or retrenchment, for example.
Products are tailored to each client`s needs and a broker will help you determine the appropriate combination of insurance solutions best for you. Generally, an individual`s financial protection requirements would be suited to a mix of cover, including Life, Credit Shortfall and Unemployment Cover.
The company operates successfully in the business arena with a range of products for various industries, like banks, the motor trade, telesales and retail. Its credit provision product for revolving and fixed term credit is a unique offering.
The company also offers an exclusive and unique product - the Return to Invoice policy. The only one of its kind in South Africa, this is a depreciation product for your motor vehicle. If your car is written-off in an accident or stolen, your short-term insurer will pay you out for the present-day value of your vehicle, which will be less than you originally paid for it as cars depreciate. This policy will pay you the difference between what you first paid for your car yesterday and what the insurer pays you today.
PRODUCTS
Individual Insurance
Creditor insurance
Insurance cover for dread disease and disability, retrenchment, accident, life cover and credit shortfall

Return to Invoice
Policy protection against depreciating value of a motor vehicle

Funeral insurance
Business Insurance
Banks
Cover for banking products like loans, credit cards and overdrafts and bonds and mortgages

Motor Trade
Cover for vehicle financing services such as leases and contracts, hire purchase and credit shortfall

Retail Industry
Cover for retail financial services such as in-store credit and hire purchase
BEE AND CSI INFORMATION
The company adheres to BEE mandates.
CONTACT DETAILS
Physical Address:
Curzon Place
Turnberry Office Park
48 Grosvenor Road
Bryanston
2021

Toll-free tel: 0861 800 855
Tel: +27 (0) 11 244 1300
Fax: +27 (0) 11 244 1301

Email: info@cardifpinnacle.co.za
URL: www.pinnafrica.co.za