Safire Insurance started life 22 years ago as an insurance cooperative of timber growers in Kwazulu-Natal. This form of self-insurance saw members` claims being settled from a pool of contributed resources. The company has come of age since its inception and now offers a wide spectrum of personal and business insurance products to the national market.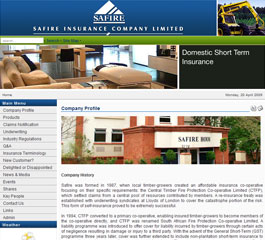 Safire Insurance Website
On the Safire website you can view their products, learn about the company or find out how to notify them of a claim
Perhaps because of its history of owner-membership and inclusion, Safire Insurance offers hands-on management experience, specialist service for its target customers and tailored solutions for each client`s specific needs. The company`s background has made it ideally suited to service the agricultural sector and that is where a large core focus of its business lies.
The company`s Farming Policy offers comprehensive short-term insurance motor and property cover but also includes benefits specific to the needs of farmers, such as liability for contaminated food products or damage to the tyres of agricultural vehicles.
There are also products for other agricultural businesses such as sugar cane farmers. Sugar Cane Cover is a new product and is managed by the Safire Crop Protection Cooperative under the auspices of the company.
The same Crop Protection Cooperation also offers the comprehensive and tailored Plantation programme to help customers protect against the financial losses of fire damage, harvesting costs when a crop is damaged and debris removal cover. This protection plan provides a high level of cover and is grounded in the company`s many years of expertise in agricultural finance and risk management.
The heritage of the company has motivated it to keep a service delivery approach that is orientated towards people. The cost of premiums is maintained at reasonable levels through the company`s commitment to working with responsible clients who manage their own businesses efficiently and effectively, thus being valuable lower risk members for the collective.
For more information about the full range of products and services available from the company, please consult the website or contact their office.
PRODUCTS
Individual insurance
Standard selection of short-term insurance products, including household and motor vehicle cover and personal liability
Business Insurance
Standard selection of short-term insurance products for businesses


Farming Policy
Comprehensive cover for farming industry with additional benefits specific to agricultural needs

Sugar Cane Cover
Comprehensive and specialised cover for farmers who grow timber and sugar cane

Plantation Programme Cover
Comprehensive and specialised cover for farmers, including cover for harvesting costs and explosions to crops while in the field or at a depot
BEE AND CSI INFORMATION
The company adheres to BEE mandates as required by law in the country.
CONTACT DETAILS
Physical Address:
Safire House
Redlands Estate
1 George MacFarlane Lane
Wembley
Pietermaritzburg
3201
Postal Address:
PO Box 11475
Dorpspruit
3206
Tel: +27 (0) 33 264 8500
Fax: +27 (0) 33 264 8501
URL: www.safireinsurance.com