Saxum Insurance is a short-term insurance service provider that focuses its core business on larger corporations that operate in corporate business, and industrial sectors such as mining and manufacturing. The company takes pride in its innovative products and service and offers tailored underwriting solutions designed to solve the specific financial protection needs of a corporation.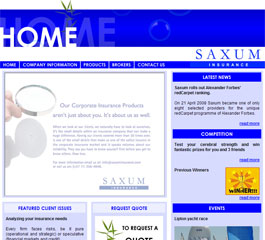 Saxum Insurance Website
On the Saxum Insurance website you can find product and contact information, or login as a broker
Saxum Insurance seeks out a client base of businesses that are effective managers of their risk liabilities and that are looking for secure financial protection against loss and calamities.
The company uses experienced and knowledgeable brokers to ensure that its clients` risk cover needs are effectively managed by the insurer and they are the main point of contact for its customers. Saxum works in conjunction and cooperation with the broker and the client towards a shared goal of loss mitigation. This is the company`s `tri-party` approach to service delivery and it enables it capable of rendering professional and prompt service across all elements of insurance cover, from policy underwriting through to claims processing. This service is supported by flexible IT systems that allow for easy documentation and comprehension.
Saxum Insurance is a short-term insurer that is solidly grounded in its core values of professionalism and product quality in its approach to financial risk management. It is through these driving factors that the company competes and excels in its selected markets.
PRODUCTS
Corporate Insurance
All risks cover; customised solutions for larger businesses

Commercial Insurance
Personal accident cover for employees; theft cover; third party motor cover; fire, storm & explosion cover; fidelity cover; money cover; business interruption cover

Personal Insurance
Automobile insurance, homeowners insurance, personal liability, watercraft

Hospitality and Leisure Insurance
Dineguard - for restaurants
Innguard - for hotels, game lodges, game farms etc
Guestguard - for B&Bs
Greenguard - for golf and bowling clubs
Safeguard - personal insurance for owners and managers
BEE AND CSI INFORMATION
The company adheres to BEE mandates.
CONTACT DETAILS
Physical Address:
28 Fricker Road
Illovo
4126
Postal Address:
P.O.Box 1634
Houghton
2041
Tel: +27 11 750 9700
Fax: +27 11 750 9777

Email: info@saxuminsurance.com
URL: www.saxuminsurance.co.za