XL Insurance in South Africa is a member of a global company that operates in 100 countries. Backed by the international financial giant, the XL Capital Group, the company leads the way in providing risk management solutions to industries and companies around the world.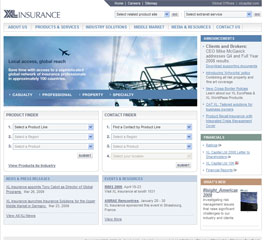 XL Insurance Website
The XL Insurance website lists their industry solutions, products and services as well as their contact details
In 2007, European risk managers recognised XL Insurance as the `European Business Insurer of the Year` for its innovative and service-orientated approach to risk management insurance cover. In today`s volatile global economy, the company strives continuously to offer intelligent risk solutions for a large variety of industries across the span of human endeavour.
The company operates across an extensive spectrum of industries and offers risk protection products in the following sectors - agriculture, construction, finance, fishing, forestry, insurance, manufacturing, mining, public administration, real estate, retail trade, services, transport, telecommunications, energy, sanitation and in the wholesale trade.
A recent study by Flasp?r Research Group within the North America insurance sector revealed that more than 300 consumers of insurance products ranked XL Insurance as a leading insurance provider in all seven key performance areas where clients had their most important concerns when selecting insurance options. XL was highly ranked by customers in the areas of client-centred orientation, financial value, financial security, product expertise allied with knowledge of the market, underwriting, and service and claim processing.
This insurer helps businesses financially protect themselves against the risks of operating in a global market and makes maximum use of its international expertise at a local level.
PRODUCTS
Business Insurance
Risk management insurance solutions for an extensive range of industries. Given the product range, the best way of sourcing appropriate products is to use the drop-down product finder wizard on the company`s website.
BEE AND CSI INFORMATION
XL Insurance in South Africa adheres to BEE mandates.
CONTACT DETAILS
Physical Address:
40 Ashford Road
Parkwood
Johannesburg, 2193 South Africa
Postal Address:
XL Insurance Company Limited
P.O. Box 62228
Marshalltown
2107
South Africa
Tel: +27 (0) 11-442-1111
Fax: +27 (0) 11-442-1125
Email: via website form
URL: www.xlinsurance.com