Please note: The information in this review is no longer applicable as AA no longer sells any form of insurance products.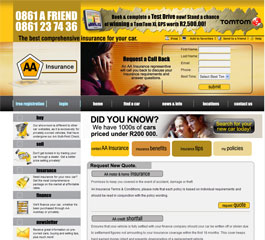 AA Insurance Website
On the AA Insurance website you can discover their broad range of insurance products and buyer benefits as well as request a quote.
AA Insurance is provided by probably the most trusted name in the vehicle sector in the country - the Automobile Association. The organisation has eighty years of experience when it comes to helping motorists in South Africa with all aspects of owning and operating their motor vehicles, and it has a wide and comprehensive service network that is at the disposal of its customers. As such, to provide insurance on top of this is a completely logical step - and as a consumer you have the peace of mind that comes from knowing that this is a long-standing and trustworthy provider, that has lots of experience, and is known for it`s customer care.
As you would expect with AA Insurance, the focus is almost completely on vehicle insurance - there are core products as well as plenty of value added extras that can be provided via the company`s other service arms. There is also insurance to help with vehicle financing problems that you may encounter.
The central feature of its offerings is vehicle cover. This is a comprehensive insurance product that includes cover for accidents, vehicle damage, and theft and hijacking. In addition to this cover, you can also get free value-added services, like vehicle towing and storage, car hire in the event of an accident, and commission payback. As has become pretty standard in many sectors of insurance, you also get rewarded for taking preventative measures - for instance, you get a discount on advanced driving courses.
Your AA insurance will also provide:
AA membership included if you are not already a member

Comprehensive motor and home insurance

80 years of trusted motoring support

Fixed premiums for a year- even if a claim is made

Installation of a vehicle recovery system if required

No fine print
It doesn`t stop there though. The company will also pay for a tracking device to be installed in you car in line with certain policy requirements, and you can pay your monthly instalment on this as part of your car insurance premium. Then there`s additional insurance available for mechanical breakdown, and even a service plan option for your vehicle.
You can also get insurance policies to cover other aspects of owning a vehicle, like credit protection insurance. This is a policy that protects you should you not be able to make car payments for a certain period as a result of disability - be that temporary or permanent. It also covers any inability to pay as a result of hospitalisation or retrenchment.
Then there is credit shortfall insurance - should your car be written off while you are still paying it off, the insurance will cover the difference between you main car insurance policy payout and the actual amount that you still owe, if applicable.
Finally there`s a basic home insurance option as well - where you get cover for buildings and household contents.
PRODUCTS
Vehicle insurance
Comprehensive vehicle insurance - accident, damage and theft.
Credit protection insurance
Cover against not being able to meet vehicle payments through disability, hospitalisation or retrenchment.
Credit shortfall insurance
Extra cover in the event of your car being written off and the insured amount not covering the amount you still owe on your car finance arrangement.
Basic household insurance
This covers buildings and contents
BEE AND CSI INFORMATION
The AA has instituted a comprehensive BEE programme and has a long history of being centrally involved in many community initiatives around motoring.
In fact it is an insurance company that has grown out of a community service business, rather than the other way round. The AA`s profile is well-known and widely trusted in this regard.
CONTACT DETAILS
Enquiries: 0861 A FRIEND (0861 237 436)
Email: info@aainsurance.co.za
Tel: 011 277 0000
Fax: 086 679 6351
Postal Address:
PO Box 30926
Braamfontein
2017
URL: www.aainsurance.co.za
Insurance driven by the AA is underwritten by Auto & General Insurance Company Ltd, an authorised financial services provider (FSP licence number: 16354).