Budget Insurance has proven itself to be one of the most trusted names in the South African insurance industry. In the time that is has been operating, it has earned the award for Most Trusted Short-Term Insurance Brokerage in 2004. This was awarded by the Business Trust barometer.
Like most insurance companies these days, it offers a quick and convenient online quote service - you simply fill in a form and submit it. A company consultant identifies the best package to suit your needs, calculates your premiums and contacts you. It`s by far the easiest way to take out an insurance policy, and the perfect chore for which the web is so well suited. Those who are already clients can also manage their policies and make claims on the website. In addition you can of course use the toll-free telephone line to get quotes, service, manage your policy and make claims.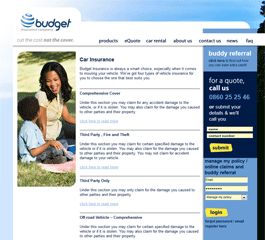 Budget Insurance Website
On the Budget Insurance website you can get a free online quote, manage your existing policy or submit a claim.
The main categories of insurance offered by Budget Insurance are vehicle insurance (this covers a number of vehicle types and options), comprehensive home contents insurance, insurance for buildings, and business insurance.
Let`s turn our attention firstly to the vehicle insurance category. Here you`ll find a wide variety of insurance options. Car insurance offers 4 different types of policy. Firstly there is the basic comprehensive car insurance. This gives you cover against all theft and damage, towing and storage, medical costs (to a certain maximum amount), damage you inflict on others with your vehicle, roadside assistance and the option of taking extra cover - such as replacing vehicle canopies, windscreen, sound system and the cost of car hire while your car is being fixed or replaced. If you prefer, you can opt for third-party, fire and theft cover only. This gives you all of the previously listed cover, except for damage and theft. The third option is third-party-only cover. This covers medical costs, damage to others and roadside assistance. Finally there is Trailsure for off-road vehicles, which offers the same as comprehensive, except that medical cover is ten times more. It also includes extra cover - accessories, spare wheel, anti-theft system reprogramming, driving in specific other African countries, tracking device installation and cell phone kit. Then there are specific policies that cover motorcycles, caravans, trailers and watercraft.
Home contents cover includes a very comprehensive list of covered items. You`re covered against damage to or loss of household contents - this includes theft, break-in, fire, explosion, lightning, malicious damage, weather damage - as well as things like plumbing. It also extends to further lengths than many others. Perishables that go off due to power failures are covered; stolen washing or garden furniture is also covered, as are domestic employees` belongings. It even covers liability for death of a domestic employee on the premises, or death of you or your spouse in the event of a break-in or fire. Public liability and tenants liability are also covered, depending on whether you own or rent. Buildings insurance covers all kinds of damage and loss (similar to the list above), including things like loss of rent if a tenant has to move out due to covered events, and damage by natural events.
Business insurance offers business owners tailored insurance policies. There is no standard policy - it`s all designed according to your needs and those of your business. All it takes is a phone call to get a quote, and the policy also includes free business advice and assistance. This is available 24 hours a day - you get things like legal advice, labour law advice, computer and IT assistance, office assistance (access to recommended services), traffic fine and licensing assistance, roadside assistance and medical assistance.
There are value-added products aplenty. There is personal accident insurance (benefits for your family if you become disabled, are hospitalised, are deceased or in an accident); a protection plan (funeral costs); cell phone cover (cover for loss, theft or damage). You can also add a couple of extras to your policies. Firstly there`s Restore Smart, which pays for the cost of minor cosmetic repairs. Then there is Expo-Sure, which provides assistance should you or your family be accidentally exposed to HIV/AIDS.
There is a further wealth of company information on the website, so you can make informed decisions about your insurance policies.
PRODUCTS
Car insurance
Comprehensive; third-party, fire and theft; third-party only; Trailsure for off-road vehicles.
Motorcycle insurance
Covers damage or theft, towing and storage, accessories stolen with the motorcycle, cover for you if you injure others or damage their property.
Caravan insurance
Damage and theft cover, storage and towing if necessary due to damage, payout or death or injury, third party cover.
Watercraft insurance
Full cover can be enjoyed - for damage or theft, salvage costs, recovery and search if craft disappears, repatriation, medical costs, damage caused to others and water-skier (as an extra).
Trailer insurance
You`re covered against accidents or theft, storage or towing, third party, fire or explosion, death or injury.
Home contents insurance
Very comprehensive cover is available, including some unusual things, like food perishing due to power failure. A well-thought out policy.
Buildings insurance
You`re covered against loss or damage due to a wide range of reasons, and it includes public liability and tenants` liability.
Business insurance
Specially tailored policies depending on your needs. The categories in which cover is available are: professional (e.g. financial advisers, engineers, lawyers and accountants), general (e.g. retailers), medical and other (e.g. funeral parlours, diving schools, coffee shops and plumbers). There is also 24-hour business assistance, as detailed above.
BEE AND CSI INFORMATION
The company is committed to fulfilling its BEE requirements. No details of specific CSI initiatives were available at time of review.
CONTACT DETAILS
Toll-free telephone: 0861 001 335
Quotes: 0861 001 335
Head office telephone: (011) 428-1228
Head office fax: (011) 429-1138
Call-back service: website form
Policy services:
Johannesburg: 0860 - 109 190
Pretoria NW: 012 - 452 3000
Pretoria SE: 012 - 452 3260
Durban: 031 - 366 8466
Cape Town: 021 - 527 8666
Port Elizabeth: 041 - 502 2662
Bloemfontein: 051 - 406 2211
Claims services:
Johannesburg: 0860 - 109 190
Pretoria NW: 012 - 452 3000
Pretoria SE: 012 - 452 3260
Durban: 031 - 366 8566
Cape Town: 021 - 527 8766
Port Elizabeth: 041 - 502 2666
Bloemfontein: 051 - 406 2222
Compliance: compliance@telesure.co.za
Physical Address:
Investment Place
Block B
10th Road
Hyde Park
2196
URL: www.budgetinsurance.co.za