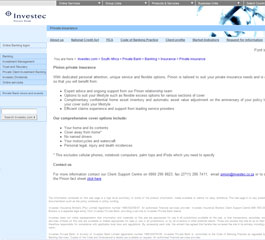 Investec Website
On the Investec website you can find out more about the blue chip financial services company and its products.
Investec has made an indelible mark on the South African financial services industry, and has expanded to become a global presence. It is one of the most trusted, respected and effective investment banks in South Africa`s history, and is able to offer insurance backed by this track record and high level of financial nous and expertise. It is a stable company with a lot of strength, which means that you can enjoy a high level of peace of mind in your dealings with it. The company is listed in both South Africa and the UK, through a dual listing structure.
All of this commitment to excellence and business acumen has gone into its insurance products, aimed at the upper end of the market. As we all know, one of the main ways that insurance companies stay profitable and able to meet payout requirements is through successful risk management and effective investment. These are both areas that the company specialises in, and has shown considerable success at over the years of its existence.
Investec provides the market and its clients with a set of exclusive insurance products. These are aimed at individuals as well as businesses. Perhaps the crucial difference between Investec and many other insurance providers is that it uses an approach that is about as far from a one-size-fits-all approach as can be. It has a basket of insurance options that serves as its product set, but clients are able to put together their own insurance packages to suit their needs. Dedicated experts in their field are employed to deal with insurance customers, so not only do you get to be insured by a top company, but your insurance policy is also designed for you by some of the best in the business. The company has a specialist team that deals with insurance, and this team consists of experts in all the various fields that the insurance covers - not simply broad insurance experts.
When it comes to individual insurance, the company offers a private insurance product. This is a personal insurance policy offered to selected clients that can be tailored to perfectly suit your individual needs. Its various features can be combined to form a complete personal insurance solution.
There is also homeowners insurance that covers all aspects of residential property owners insurance. This includes buildings insurance (including home improvement insurance and construction damage), as well as landslip and subsidence cover on your buildings.
When it comes to business insurance, there is a similar approach. A range of insurance options can be combined to form a tailored solution for your business. There are insurance solutions for businesses as well as professionals.
Businesses can also take out combination policies - these combine insurance with risk financing. It involves comprehensive risk assessment services and advice from company experts, and insurance solutions that are then tailored in line with this. Conventional commercial insurance packages are also available.
PRODUCTS
Individual short-term insurance
Tailored solutions designed around your personal needs
Homeowners insurance
Comprehensive insurance packages that include buildings insurance and additional value-added insurance
Business and commercial insurance
Tailored business insurance products, specifically designed for each individual business
Combination of risk financing and insurance
Developing and financing risk insurance and financing packages for businesses
BEE AND CSI INFORMATION
Investec is fully BEE compliant, and heavily involved in CSI and corporate sponsorship activities. As well as making corporate donations and investment in community initiatives, it also specifically focuses on funding and otherwise supporting initiatives in the areas of education, entrepreneurship and HIV/AIDS. It has educational bursary schemes and undertakes partnerships with other businesses, government, communities and its employees. Its overall approach is guided by a commitment to sustainable results in the long-term, rather than mere short-term help.
CONTACT DETAILS
Tel: +27 11 286 7000
Fax: +27 11 286 7777
Head Office Address:
100 Grayston Drive
Sandown
Sandton
2196
Postal Address:
P O Box 785700
Sandton
2146
URL: www.investec.com