OUTsurance was one of the original companies that pioneered the concept of direct short-term insurance in South Africa. The idea being that a technologically advanced call centre, staffed by knowledgeable and well-trained agents could allow you to deal directly with your insurer rather than go through an insurance broker. This saves on administrative demands and costs, which mean that not only do you not have to go through an intermediary for your insurance needs, but you save money on premiums. This model has proven to be highly successful and has seen the company become one of the most popular and successful insurance providers in the country, with a large clientele and a burgeoning track record. It has been operating since 1998.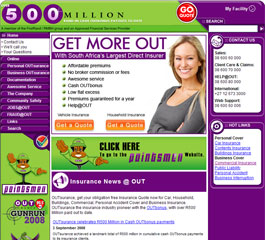 OUTsurance Website
On the OUTsurance website you can get a free online quote, log in and manage your policy, or find out more about their products.
The other cornerstone of the insurance model of OUTsurance is the idea of more tangible and upfront promotion of no-claim rewards. It has formed the foundation of its marketing strategy, encapsulated in the by now well-known branding catchphrase: "you always get something out". In practice this means that you are rewarded for not having to make claims with a reduction in premiums.
The company is part of the RMBH FirstRand financial services group, which gives it considerable financial muscle - clearly another feather in its cap as far as clients are concerned, as it gives peace of mind from knowing that your insurance is continuously viable and will be around to pay out when you need it.
We cover the products in a more comprehensive list below, but a quick summary includes two broad categories: personal short-term insurance and business short-term insurance. In the personal line, all bases are covered. You can get comprehensive household and personal belongings insurance, and vehicle insurance, as well as personal accident insurance. Businesses can avail themselves of things like fleet insurance, business and employee liability insurance, employee fidelity insurance, business interruption and public liability insurance, as well as stock and money cover.
Not only do you get direct service and reduced premiums on a range of affordable insurance products and value-added services, but you are also making a very visible and tangible contribution to the economy and the community when you choose this company as your insurance provider.
You can call the numbers below for a quote, or go directly the website to get a quote and organise your insurance right there and then.
PRODUCTS
Individual insurance
Vehicle insurance
This includes cars, motorcycles, light delivery vehicles, caravans and trailers. You can be covered for theft and hijacking as well as accidents and third party damage or injury. There is a range of additional cover options that includes sound equipment, car hire and credit shortfall.
Buildings insurance
This is insurance for all your immovable property, as well as things like gates, fences and swimming pools. You are also covered against events like plumbing accidents, storm damage, power surges, theft, subsidence and land slip, and much more.
Contents insurance
This is comprehensive cover for your household contents against a wide range of eventualities, including theft, fire, acts of nature, goods in transit when you move house, domestic employee and visitor liability, accidental damage to certain things like a TV, and a host of other things.
Out-and-about insurance
This covers your personal possessions that you take with you when you go out, like jewellery, laptops and cell phones.
Personal accident insurance
This covers you against death and permanent disability as a result of an accident.
Watercraft insurance
This includes accident, theft, fire, explosion, medical costs, liability and salvage cover for motorboats, ski boats, and jet skis.
Business insurance
Comprehensive business insurance that includes: vehicle and fleet, buildings, building contents, electronic equipment, stock, money, out-and-about possessions, business interruption, public liability, personal accident, employer liability, employee dishonesty and watercraft.
BEE AND CSI INFORMATION
Being such a large business concern, OUTsurance has a proactive BEE programme that includes not only ownership, but also empowerment and training at an employee level.
It is deeply involved in community upliftment initiatives, including the highly visible pointsmen at busy intersections in Johannesburg, as part of an effort to serve the community in a way that directly gels with its business model of providing vehicle insurance. It works hand in hand with the Metro Police department in this. It also takes an active role in the upgrading and sustaining of community centres across the country, and is involved in all manner of other community initiatives.
CONTACT DETAILS
Quotes: 08 600 60 000
Client service and claims: 08 600 70 000
Physical Address:
1241 Embankment Road
Zwartkop Ext 7
Centurion
0157
Postal Address:
P.O. Box 8443
Centurion
0046
URL: www.outsurance.co.za